We're proud to announce our 2019 MSU Comics Forum event dates, location, keynote speakers, availability of our artist and scholar submission forms, and our event artwork: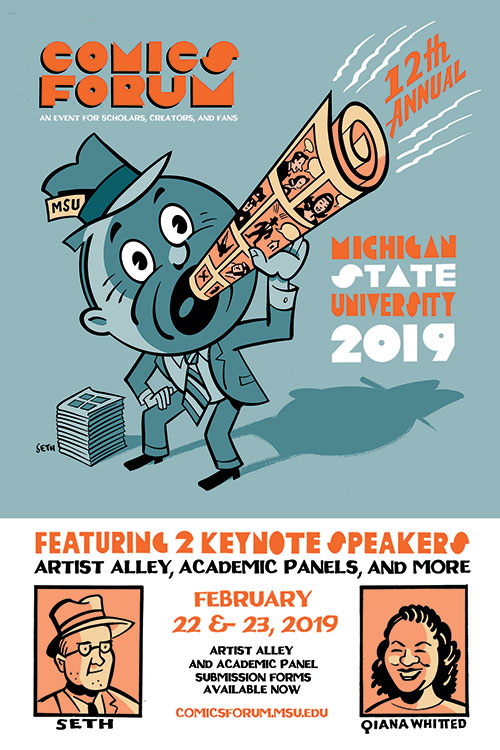 – — —– — –
Seth is the award-winning cartoonist behind the comic book series Palookaville, a semi-annual hardcover. His comics have appeared in the New York Times Magazine, Best American Comics, and McSweeney's Quarterly. His illustrations have appeared in numerous publications including the cover of the New Yorker, The Walrus, and Canadian Notes & Queries. He is also the designer for several classic comics reprint series, notably the collections of work by Charles Schulz, John Stanley, and Doug Wright. Seth has exhibited throughout the world in a variety of group and solo shows including exhibitions of his model city Dominion, which toured Galleries in Eastern and Central Canada as well as select galleries the world over. He was also the subject of the National Film Board documentary entitled Seth's Dominion.
– — —– — –
Qiana Whitted is Associate Professor of English and African American Studies at the University of South Carolina. A graduate of Hampton University with a PhD from Yale University, her research focuses on African-American literary studies and American comic books. Her publications include the edited collection, Comics and the U.S. South (Mississippi, 2012) and the book "A God of Justice?": The Problem of Evil in Twentieth-Century Black Literature (Virginia, 2009). She is an associate editor of INKS: The Journal of the Comics Studies Society and Chair of the International Comic Arts Forum. Her most recently published articles and book chapters explore race, genre, and comics in representations of historical figures such as Nat Turner, Stagger Lee, and Emmett Till. Her forthcoming book on race and social protest in 1950s EC comics will be published by Rutgers University Press in 2019.
– — —– — –
We look forward to seeing you again next year!
Sincerely,
The MSU Comics Forum Core Committee