The Michigan State University Comics Forum is proud to announce not one, but two keynote speakers for our 10th Anniversary event to be held on the final weekend of February 2017.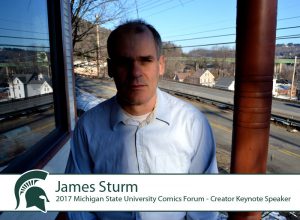 Our Creator Keynote Speaker, James Sturm, has garnered many awards for his work including a Xeric grant, an Eisner Award, and Time Magazine's Graphic Novel of the year. He's also a founder and teacher at the Center for Cartoon Studies and has worked for a number of comics publishers including Marvel Comics, Fantagraphics, First Second Books, and Drawn and Quarterly to name but a few.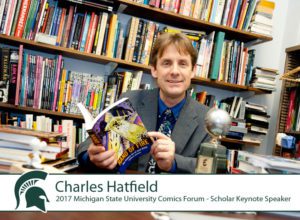 Our first Scholarly Keynote Speaker, Charles Hatfield, is the author of Alternative Comics: An Emerging Literature (2005) and the Eisner Award-winning Hand of Fire: The Comic Art of Jack Kirby (2011), as well as many articles and book chapters. He is co-editor of The Superhero Reader (2013) and Comic Book Apocalypse: The Graphic World of Jack Kirby (2015), and curated the US's largest-ever Kirby exhibition at CSU Northridge in 2015. A longtime contributor to The Comics Journal and The Jack Kirby Collector, Hatfield has been writing about comics for more than twenty years. At CSU Northridge, he teaches courses that specialize in comics, popular culture, and children's literature. Hatfield has served on the boards of the International Comic Arts Forum and the MLA Forum on Comics and Graphic Narratives, and is the founding President of the Comics Studies Society. He is now collaborating with Bart Beaty on a guidebook to comics studies and with Craig Fischer on a study of cartoonist Eddie Campbell.