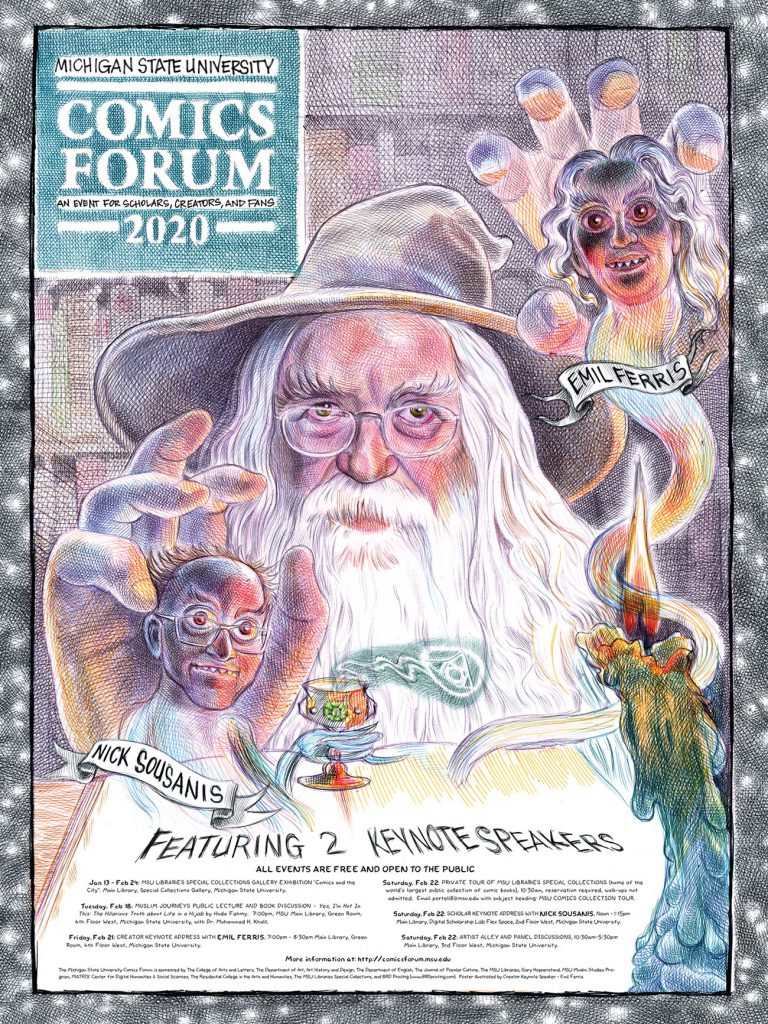 The events of the 2020 MSU Comics Forum started with an exhibition of comics from our Michigan State University Special Collections Library called "Comics and the City" which began in January 2020 and ran through the ending days of the Forum. The exhibiton was currated by Co-Panel Coordinators, Zack Kruse and Julian Chambliss.
On Tuesday, Feb 18th of the 2020 MSU Comics Forum, MSU Muslim Studies co-sponsored a lecture and comic book discussion on the comic, Yes, I'm Hot in This: The Hilarious Truth about Life in a Hijab, by Huda Fahmy.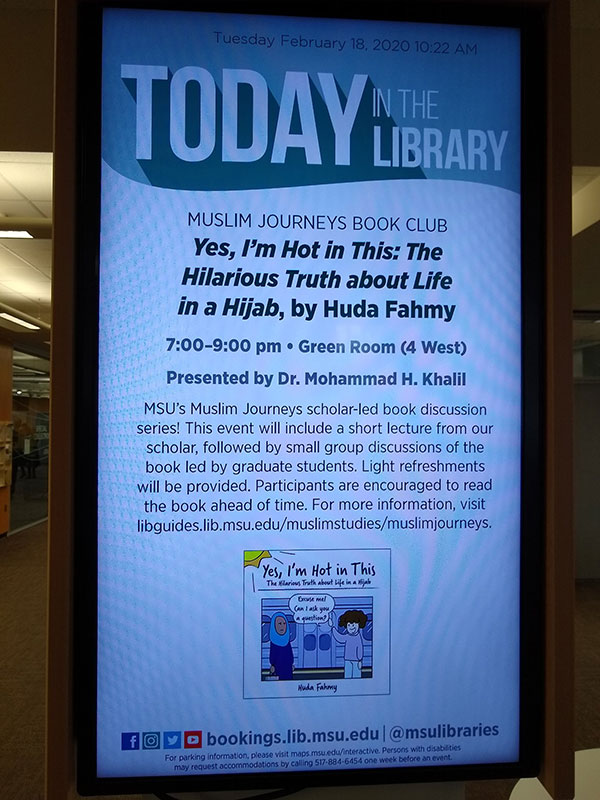 On Friday, Feb 21, the academic panel discussions began to spill over into a second day this year (traditionally only held on Saturday of the event). The round table discussions started just after lunch and covered a number of topics such as, Comics in Translation, Comics and the Digital Humanities, and Comics and the Archive.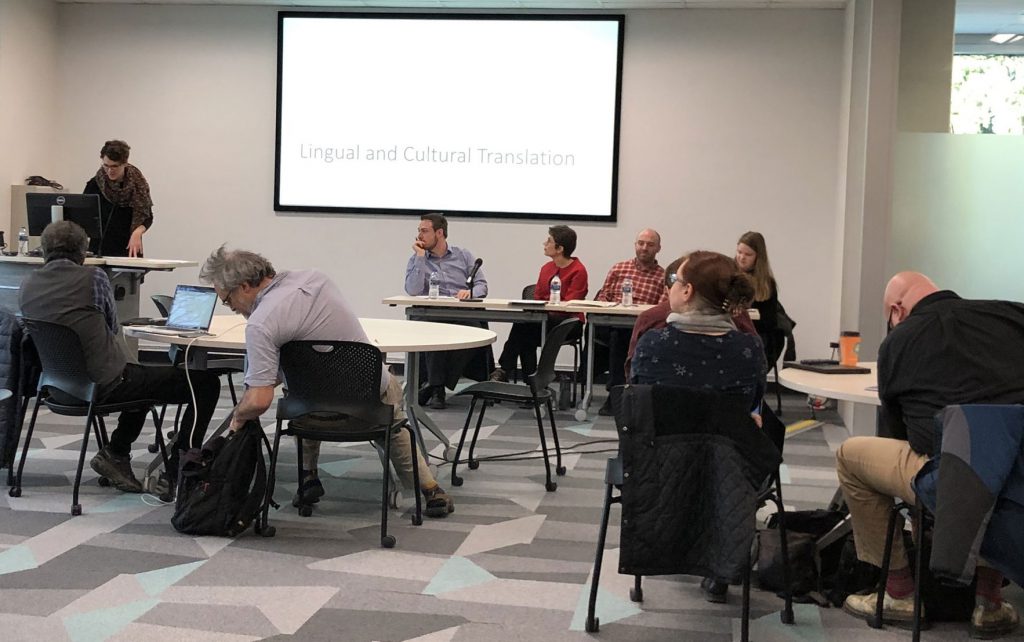 Later that evening, our 2020 MSU Comics Forum Creator Keynote Speaker, Emil Ferris, took the stage to deliver her lecture to a packed house.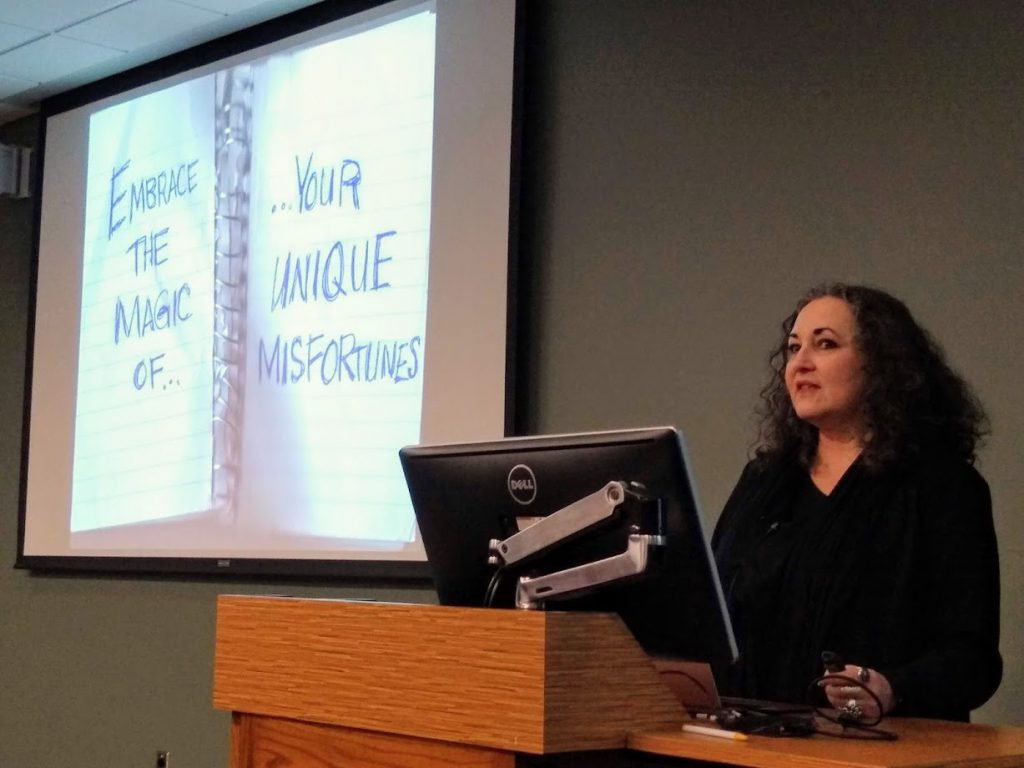 The keynote address concluded with a question and answer period, but not before a standing ovation from the audience:
The following morning, Saturday, Feb. 22, the event began with two limited engagement tours of the Special Collections Library, home of the largest public collection of comic books in the world, led by Randy Scott, the MSU Special Collections Comic Bibliographer who built the collection.
Throughout the day on Saturday, there was a whirlwind of activity in Artist Alley: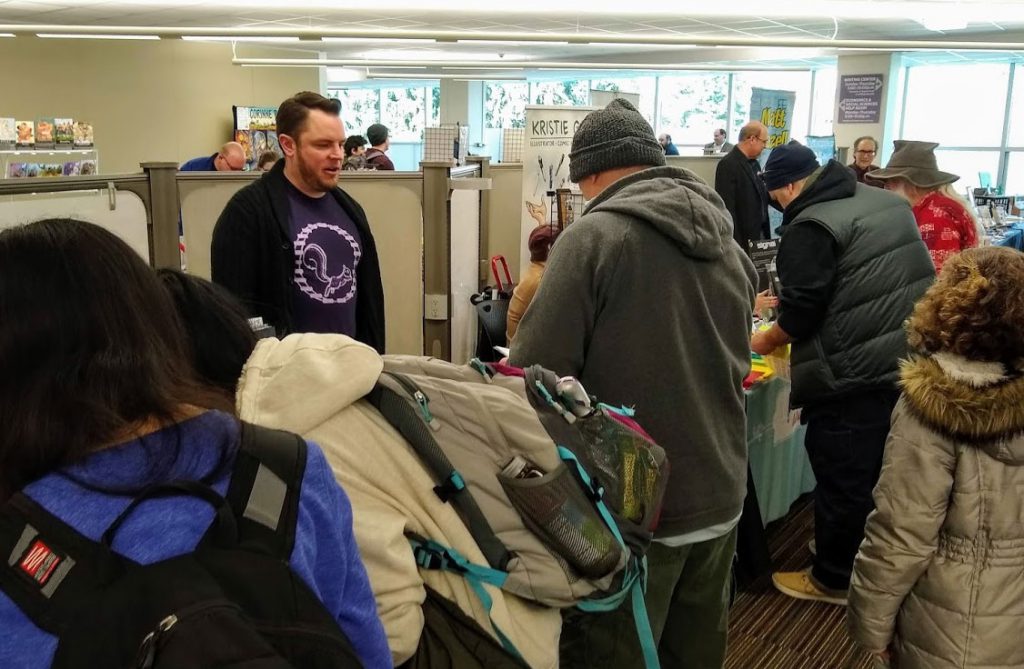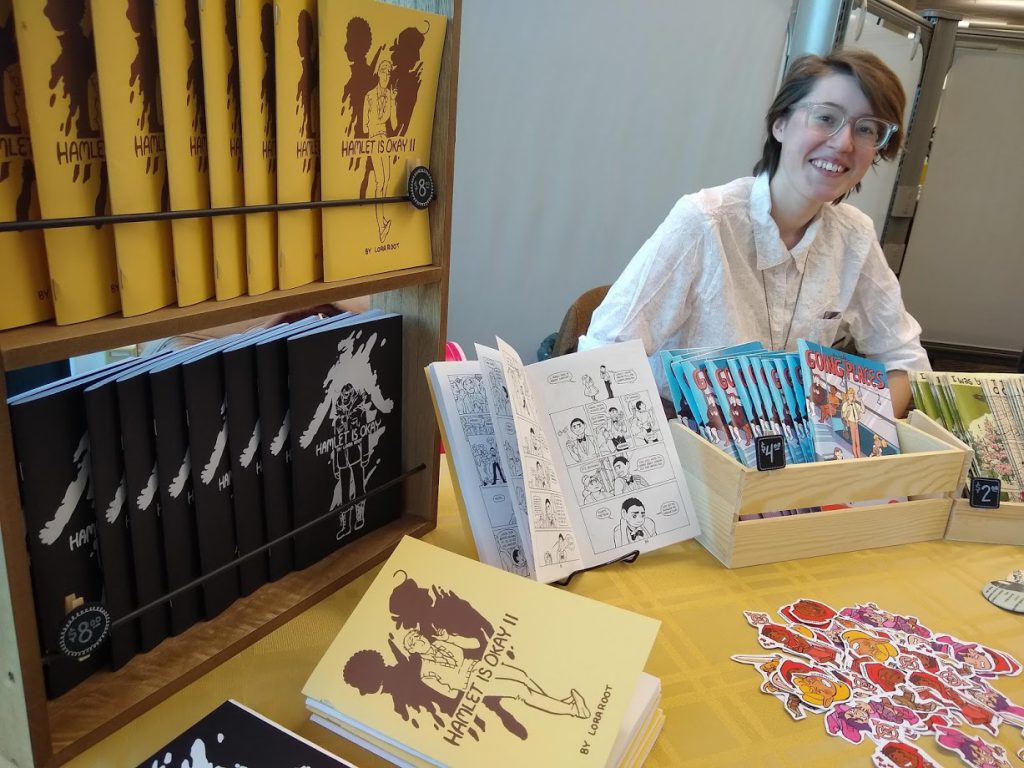 Concurrent to the Artist Alley, several sessions of academic panel discussions were taking place throughout the day.


At 1pm, all academic panel discussions stopped, save for the 2020 MSU Comics Forum Scholar Keynote Address from Nick Sousanis.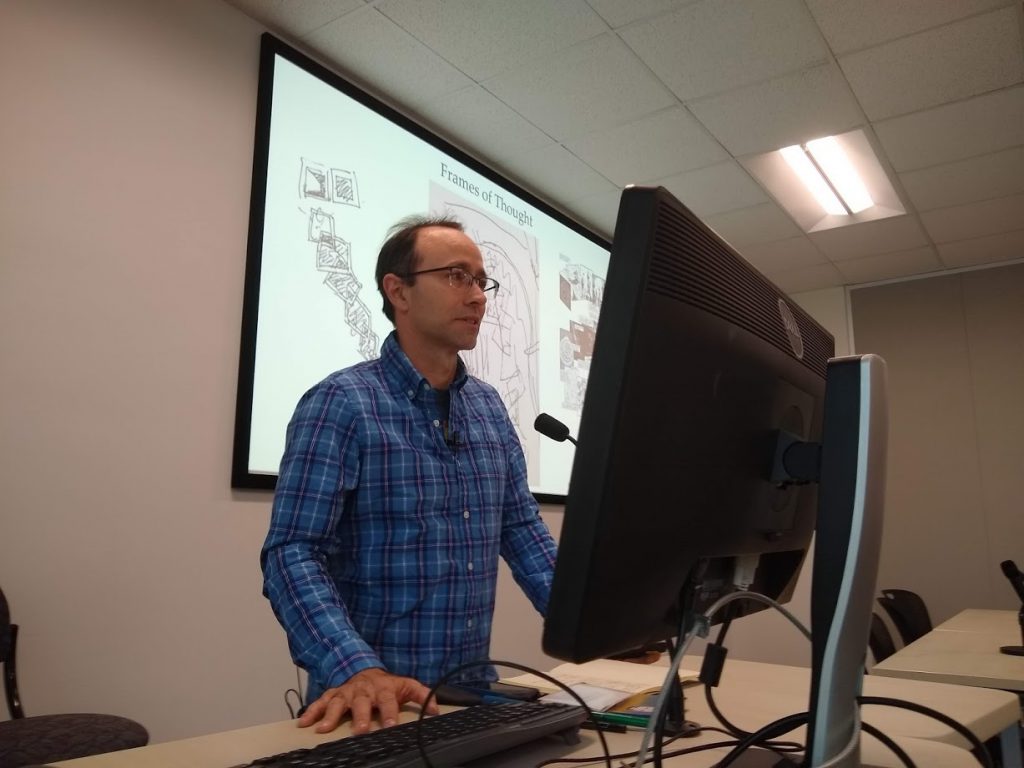 Nick spoke about his work in comics, using drawing as a mode of thinking, showed his process for creating innovative page layouts, as well as his pedagogical approach when teaching his comics courses at San Francisco State University.


After Nick Sousanis spoke to a packed room, the panel discussions and artist alley continued until the close of the day at 5:30pm.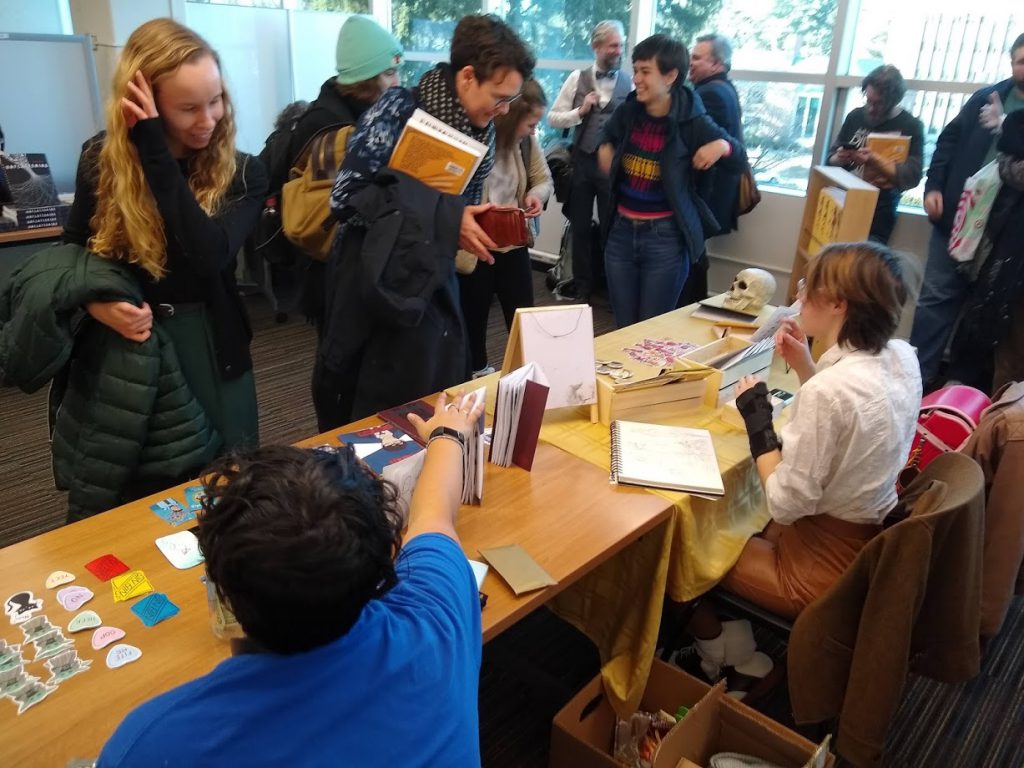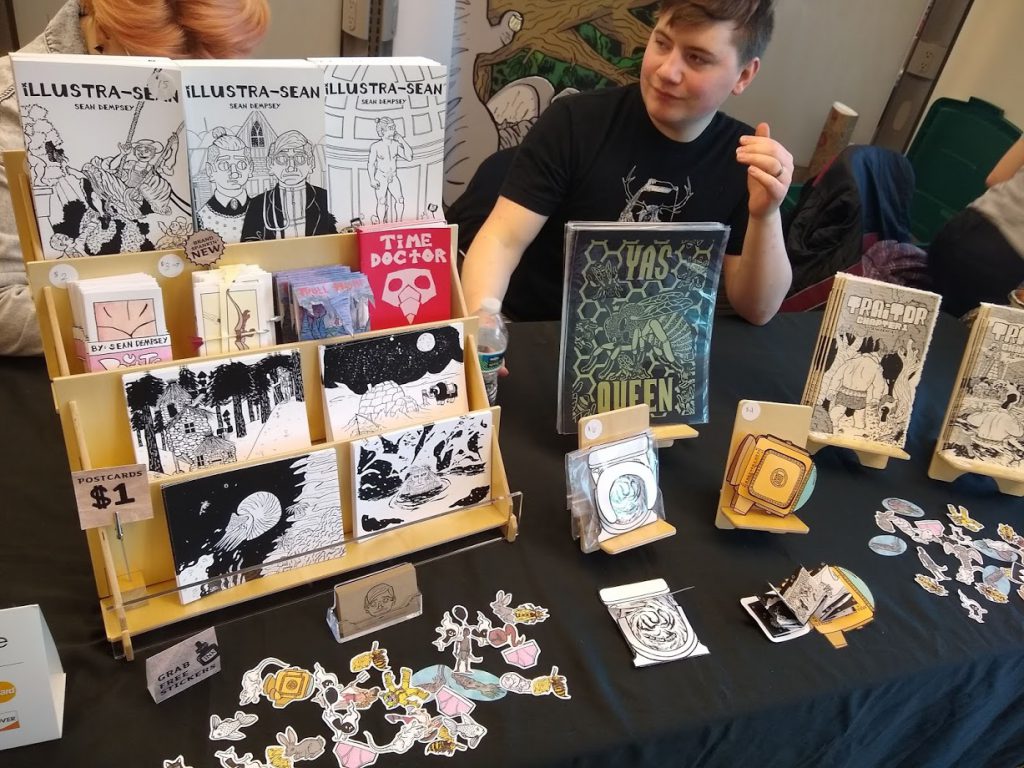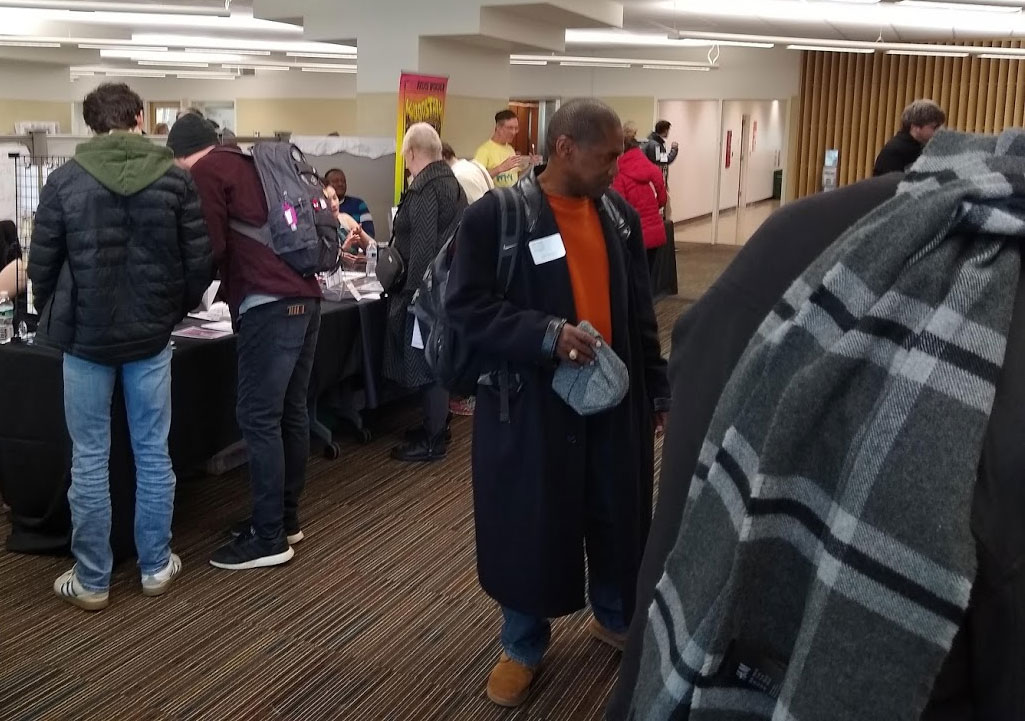 Keynote speakers, Emil Ferris and Nick Sousanis, also signed their work in Artist Alley between various engagements.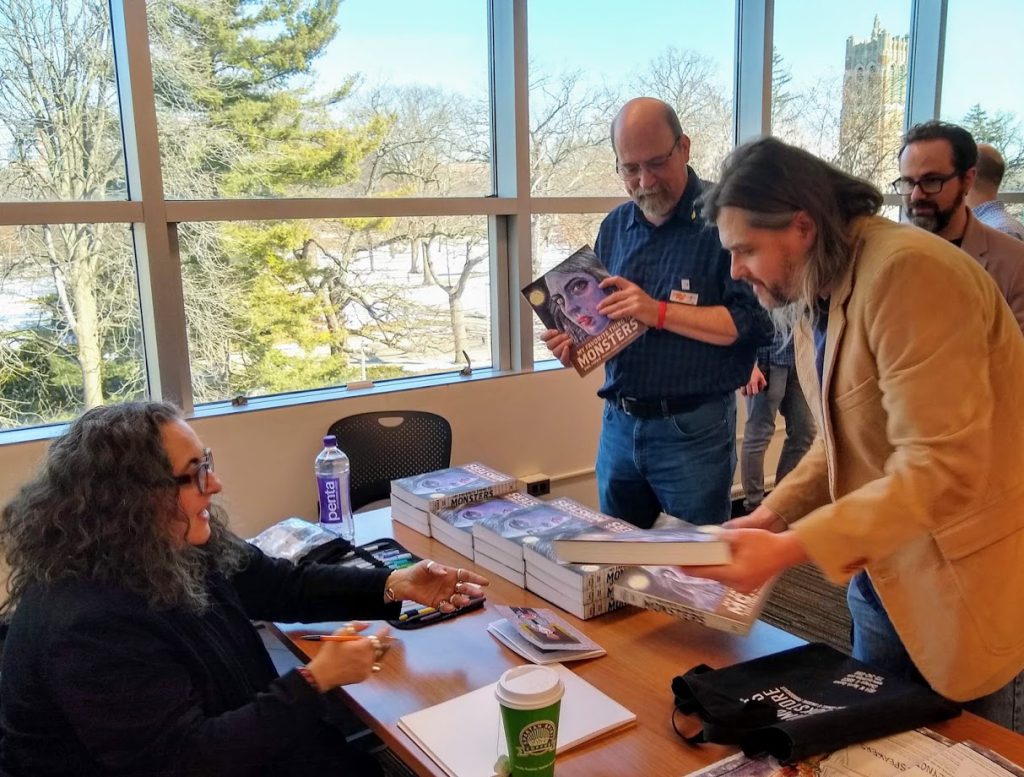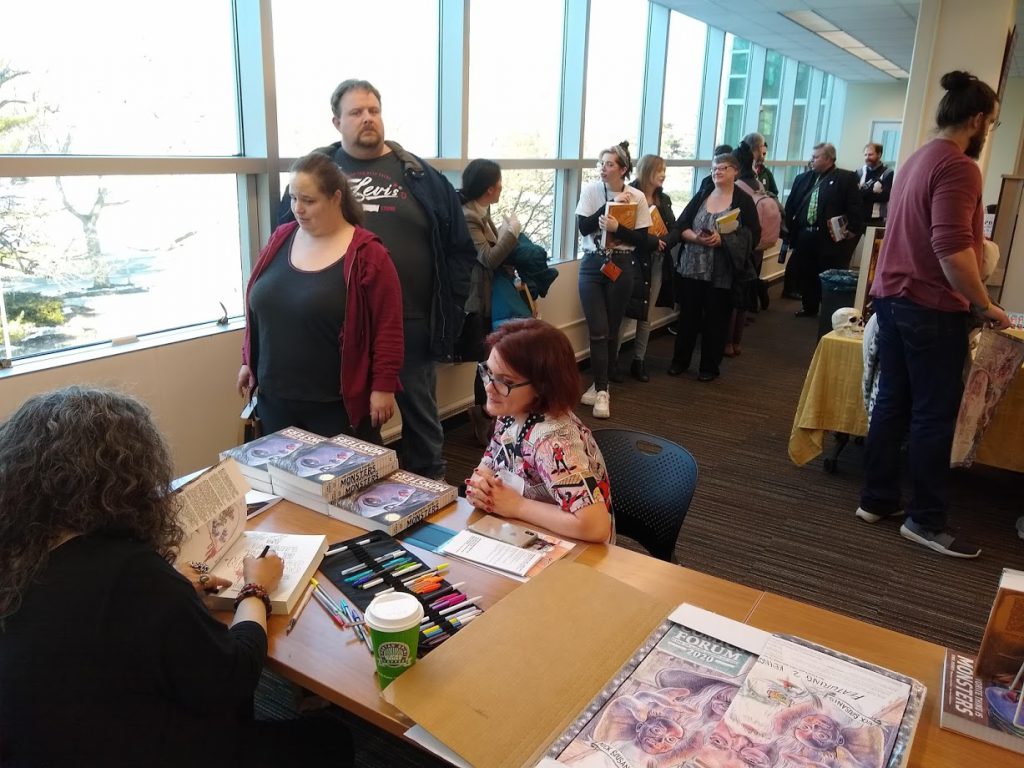 The final day of the 2020 MSU Comics Forum concluded with an announcement of the 2021 MSU Comics Forum dates, keynote speakers, venue, event artwork, and availability of the 2021 artist alley and academic panel discussion submission forms.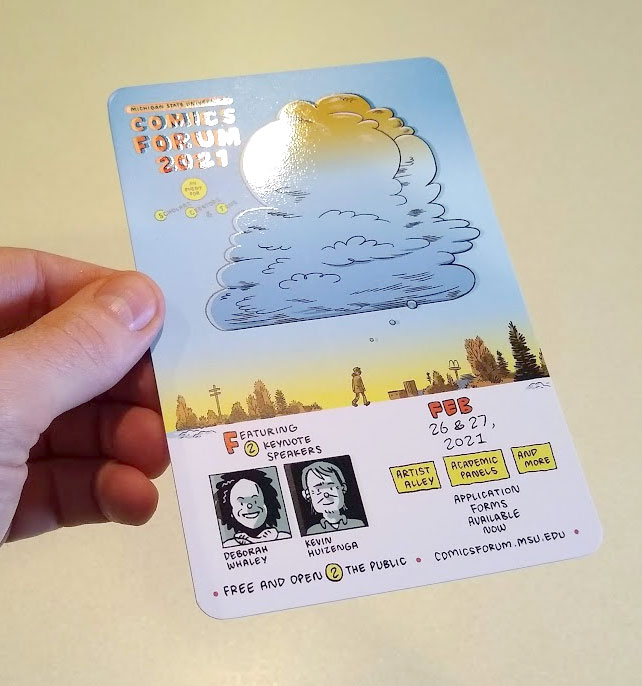 In closing, the MSU Comics Forum Committee and I would like to thank the 2020 MSU Comics Forum sponsors for allowing all the events associated with the MSU Comics Forum to remain free and open to the public, the many comics artists and scholars who have helped create our most ambitious programming roster to date, the attendees who continue to tell their friends about the event and arrive open-minded and ready to experience new ideas, and our 2020 keynote speakers, Emil Ferris and Nick Sousanis, for being such thoughtful, intelligent, and gracious guests.
Finally, I would personally like to thank my dream team of committee members who not only help to make this show possible, but also help make it better every year; Zack Kruse, Julian Chamblis, James Curtis, Anthony Robinson, Jonah Magar, and Sherief AbouElSeoud, I couldn't do this without you.

Sincerely,
Ryan Claytor
MSU Comics Forum – Director